Brandon Starc would jump, often miss the height he needed, walk away to his chair and take off his shoe. He'd rub his foot, tape his heel, put his shoe back on and jump again.
He'd miss a height and then clear the next by 30 centimetres. Somehow he managed to will himself over the bar when pain and logic said he would not, and won a silver medal.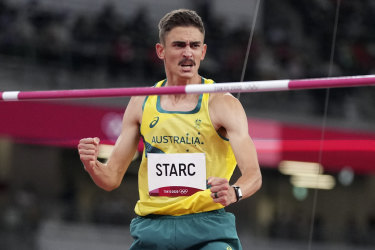 Brandon StarcCredit:AP
The pain in his heel kept him from competing at the world championships in the US last month. Two weeks later and his foot had improved enough to jump, but not enough to defend his Commonwealth Games gold medal.
Silver, given the pain in his foot, and the doubt he would be in the field at all, was possibly as satisfying as gold.
"That was tough. That was probably the toughest comp I've ever had," said Starc, who eventually cleared 2.25 metres to win silver behind New Zealand's Hamish Kerr, who took the gold on countback.
"I had to withdraw from world champs because of the bruised heel and throughout [tonight's] comp, besides maybe the first jump, I was feeling every bit of that bruised heel.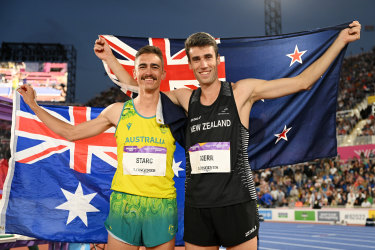 Silver medal winner Brandon Starc of Team Australia and gold medalist Hamish Kerr of Team New Zealand.Credit:Getty Images
"I was taking my shoe off trying to get some sort of relief, taping it here and there, but really I just had to grit my teeth and jump through it. I don't know what it was, I don't know if it was family or if I just wanted something really bad and I kind of just jumped through it, and somehow I got a medal.
"This was another three weeks basically from world champs, so world champs was just way too soon.
"The three weeks that I did have between, I made a lot of progress with my heel and to jump here with that much pain, I definitely couldn't have done anything decent or half-decent in Eugene."
Starc celebrated with his baby son, taking Oliver with him in his arms as he did a lap of honour. He figured his son and wife in the stands had helped get him through the pain.
"They've come all the way to Birmingham to support me. It's pretty special," he said.
"He's probably not going to remember it, but it's just special to have him here."
The injury explained why Starc had such a weird night jumping. The defending champion missed once at 2.15m, took three attempts to get over 2.19m, two to get over at 2.22m, but then cleared 2.25m with his first effort. That was the jump to get him into the silver medal.
Get all the latest news from the Birmingham Commonwealth Games here. We'll be live blogging the action from 4pm-10am daily.
Most Viewed in Sport
From our partners
Source: Read Full Article