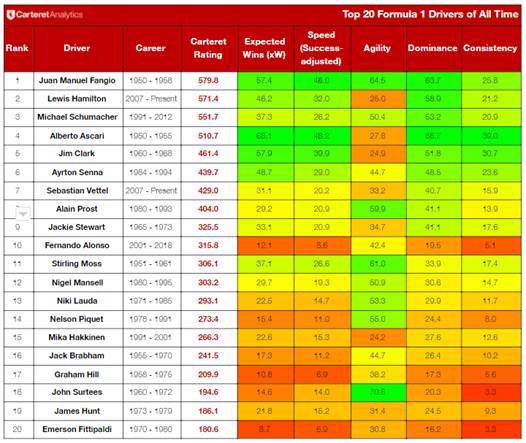 Well it seems that Stewart may be on to something. Though Hamilton and Schumacher both feature in the top three, neither of them are able to topple Fangio, the five-time world champion from Argentina who dominated the first decade of the sport. Though Hamilton edges Schumacher on expected wins, speed and dominance, Schumacher possesses greater agility by some way. The pair share a similar consistency that comes as no surprise given they possess the exact same number of titles and wins.
However, no matter how you look at it, neither are able to statistically surpass Fangio, who dominates all five attributes among F1's three most successful world champions in history.
It also accounts for the argument of 'what could have been'. With death an unfortunate yet very real threat throughout the first 40 years of the sport, many have asked what could have been for those who tragically lost their lives behind the wheel. There are few, for example, that believe Ayrton Senna would have remained a three-time world champion had he not been killed in 1994, yet the Carteret analysis is able to show how their level of success would have translated in the future.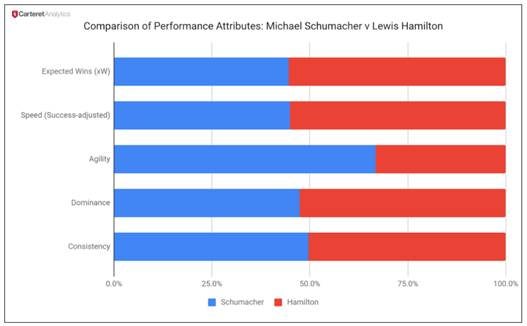 It's no surprise to hear that Senna would have been higher than his surprising position of sixth. But to learn that Alberto Ascari rated higher than Fangio in four of the five key attributes comes as an educating revelation for a younger generation unaware of the Italian's talent, and had he not lost his life in a testing accident at Monza in 1955, he could easily have challenged Fangio for the claim of being F1's greatest of all time.
While Fangio's and Schumacher's records are set in stone, Hamilton's admission on Sunday that he feels like he's "just getting started" is an ominous warning to his rivals that he is not planning on leaving the sport anytime soon. "I'm really hopeful for a better year next year and I would love to stay. I feel like we've got a lot of work to do here, we've only just started our work to make ourselves accountable as a sport," he said, with contract talks expected with Mercedes imminently.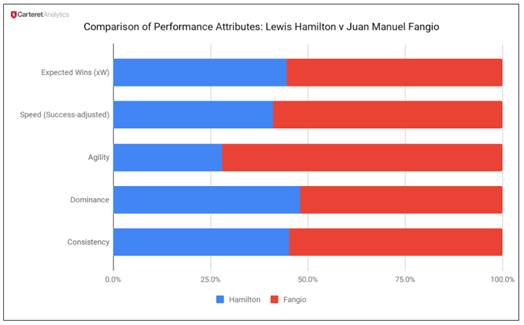 Hamilton may no longer be motivated by the quest to break records so much as he is to change the face of the sport he loves so dearly, but at this current rate of success he will surpass Fangio's rating at some point next season, making him statistically and objectively the greatest racing driver of all time. How fitting would it be for that to occur during a record-breaking eighth world championship win next season, which is exactly what is expected of him given the rules currently in place will continue due to the coronavirus crisis and crippling costs that this year generated.
It's going to take a drastic rule change in 2022 for Hamilton's reign of dominance to be ended, but by then he is highly likely to be an eight-time world champion and sitting out in front on his own as the greatest driver in history. Like him or loathe him, it is hard to dispute.
Source: Read Full Article