AFL legend Gary Ablett Snr has been diagnosed with brain damage linked to the "8-10 times" he was concussed during his 248-game AFL career.
Ablett snr, 61, has told the Herald Sun he first experienced issues in 2010 and after reading about the increasing number of former AFL players with issues sought out new scans late last year
Ablett snr said the scans he underwent in 2010 couldn't pick up Chronic Traumatic Encephalopathy, known as CTE, but he reached out to former manager and long-time concussion advocate Peter Jess who helped arrange an MEG scan at the Swinburne Neuroimaging Facility last November which painted a sobering picture.
Gary Ablett senior.Credit:Pat Scala
"I told him of my concerns and Peter helped organise an MEG scan that American Military use. It showed I have significant structural and functional brain damage," Ablett snr told the Herald Sun.
"I've since been seeing a psychiatrist named Dr John Perica once a month and receiving some new medical treatment that's been helping reduce the headaches and improving my mood."
The AFL is facing two class actions regarding players with CTE and concussion-related conditions with former Geelong player Max Rooke a leading figure in one and former Adelaide star Darren Jarman, Melbourne high-flyer Shaun Smith and the wife of deceased Richmond midfielder Shane Tuck in the other.
The AFL announced its updated concussion guidelines last week and AFL executive general manager football and general counsel Andrew Dillon said the league continued to review and update its concussion guidelines.
"The AFL has made more than 30 changes to concussion protocols, tribunal guidelines and on-field rules over the past two decades to further protect the head and improve the response to head knocks in our game in accordance with current and evolving science and we will continue to work to strengthen protocols and increase the education to clubs and players," Dillon told the AFL website last week.
Ablett snr said he experienced headaches and pressure in the top of his skull for a few days a week from "around 2010".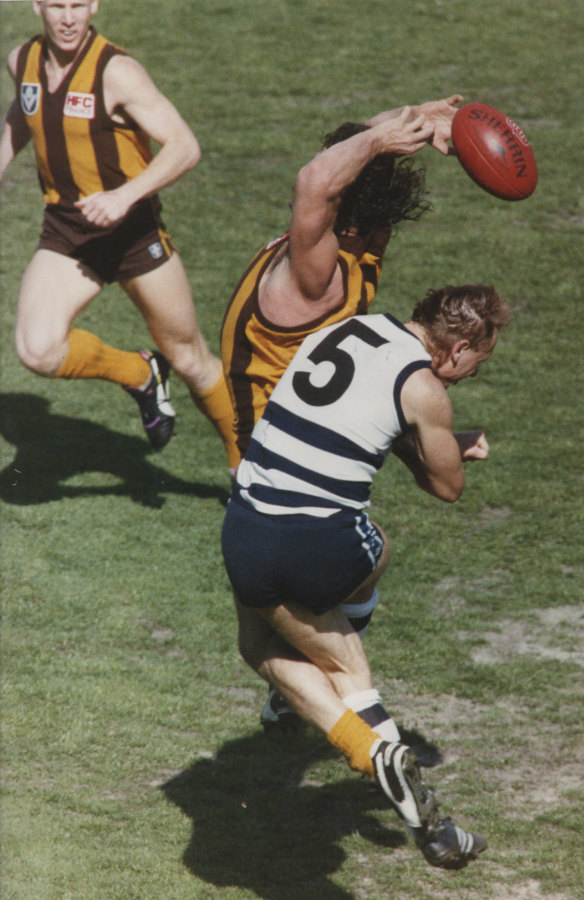 Gary Ablett collides with Robert DiPierdomenico during the 1989 grand final.Credit:Archives
Those conditions grew worse in 2015, he said.
"I began getting headaches and pressure in the top of my skull around 2010, initially a few days a week," Ablett snr told the Herald Sun.
"It then led to depression, anxiety and extreme fatigue. Under the advice of doctors, I then had numerous scans to try and find the cause of headaches and skull pressure.
"Those types of scans couldn't pick up CTE so in a way it's relieving to at least have identified the problem.
"From 2015 onwards, and almost every day, there were signs that things had changed, then about 12 months ago I started getting symptoms that alarmed me to the point where I contacted Peter Jess (Ablett's former manager), whom I'm aware has been a concussion advocate for a number of past players."
Ablett snr also told the Herald Sun he had made a claim with the AFL Players' Association for financial assistance to deal with the brain damage four months ago.
The Herald Sun reported Ablett snr had been helping deliver meals to the needy in Geelong but had been unable to work in recent months.
Ablett snr told the Herald Sun he had provided information but he hadn't heard back from the AFLPA in recent times.
The Age contacted the AFLPA for comment on Saturday night.
Jess has previously called on WorkSafe Victoria to prosecute the AFL for alleged negligence in its treatment of concussed players.
The case was referred to the director of public prosecutions last year but the AFL said in December it was told by Worksafe Victoria that there would be no further action taken.
Most Viewed in Sport
From our partners
Source: Read Full Article