Essendon coach Ben Rutten insists he is the right man to continue leading the Bombers but admits he is "disappointed" by how he has been treated by the club.
As he awaits a decision on his future by the Bombers' board on Sunday, Rutten said after Saturday night's 66-point loss to Richmond he wanted to complete the final year of his contract in 2023.
Bombers coach Ben Rutten on Saturday night.Credit:Getty Images
"I am committed to coaching this footy club. That's my job, that's what I signed up for. I said it [on Friday], I didn't put my hand up to coach this footy club because I thought it would be easy – I did it because I thought I could make a difference," Rutten said.
"I signed up, and I committed to give my services to the Essendon Football Club and the supporters and the members and the players. That's what I want to do – I want to see it through. I know I can make a difference and I know I can take us to where we want to get to."
The manner in which the Bombers treated Rutten over the past week has been unedifying, with new president David Barham admitting it was "ugly" and even apologising for not notifying Rutten last Monday that the club was hunting four-time Hawthorn premiership coach Alastair Clarkson.
Ben Rutten speaks after the game.Credit:AFL Photos
"It's been disappointing. I probably think I deserve better. I think that's something that we need to come together, as a whole football club, and we need to stick to [the] plan, put our heads down, bum up, and do the work. There is no other way," Rutten said.
"There is no other way for this football club to get back to where it wants to be."
The failed bid for Clarkson still leaves Rutten facing an uncertain future, particularly as there are board directors who want change.
"There is no doubt there are some things we have to work through. The intention of everyone at this club is aligned, there is no doubt about that, but just all need to get on the same page, get aligned to what we are doing," Rutten said.
"The two years I have been here I have had great support from the president [former president Paul Brasher] down. It has been a bit overwhelming the level of support I have received this week."
Rutten, however, has the support of the players, with skipper Dyson Heppell venting his anger and frustration at the club executive in a private meeting. The coach said he had been "extremely" proud of the players.
"That's what I am talking about. They were honest, they stood for what they believed in," Rutten said.
Heppell said on Saturday night that the players wanted Rutten to remain.
"I think it is quite powerful, we know the love, care and support he has for the playing group and the vision he has going forward. I think it is important that we stand up for him," he said.
Asked if there was a cultural problem at the club, Rutten said: "Look, we need to be better, there is no question about that. Am I perfect? Absolutely not. Are we exactly where we want to be? Of course not."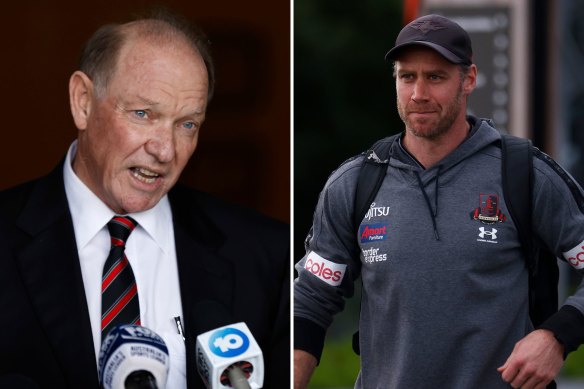 Essendon president David Barham will make a call on Ben Rutten as early as Sunday.Credit:Getty Images
The Bombers finished a largely miserable campaign with a 7-15 win-loss record. While they beat Sydney, Brisbane and the Gold Coast over three weeks late in the season, their inability to defend was a haunting deficiency of their game – and was again on show against the Tigers who rubber-stamped seventh spot on the ladder.
"I love coaching this footy club. I love coaching the players and I have so much belief in the playing group, so much belief in my staff and the people that are supporting me," Rutten said.
"What I saw this week has only given me more confidence in what we are doing. The way that we stuck together, came through this week, was outstanding. I knew the people we had on board were the right people."
President David Barham said on Saturday night he was an agent for change, and will make "bold, decisive and courageous" decisions in a bid to have the club re-emerge as a power.
While Rutten guided the team into the finals last year in his first year in charge, the Bombers were eliminated in week one. They have not won a final since 2004 and a flag since 2000.
If Rutten leaves, the Bombers have several potential candidates, including a push by some club insiders for James Hird to return. However, former captain Jobe Watson says the Bombers should not go back to Hird. Ross Lyon and Leon Cameron are also established figures the Bombers may feel they need.
Keep up to date with the best AFL coverage in the country. Sign up for the Real Footy newsletter.
Most Viewed in Sport
From our partners
Source: Read Full Article