Football's process of "ground rationalisation", as it became known in the 1980s, was an emotional saga. For tens of thousands of fans, to lose their home ground was to lose part of their personal, and family, history.
For St Kilda supporters in a certain age-range, the attachment is to Moorabbin. Their joy, at being able to attend their old ground for AFLW games and last Thursday night for an AFL pre-season fixture, is palpable.
Nothing gloomy about footy's return to Moorabbin.Credit:Getty Images
The Saints relocated from the Junction Oval to Moorabbin in 1965. It was the same year Richmond started the ground rationalisation ball rolling by shifting its home games from Punt Road Oval to the MCG.
The Saints' move seemed to be an inspired one as they immediately achieved a rare grand final appearance, before winning their famous, solitary premiership the next year. Moorabbin would be
the Saints' playing base for 28 seasons. In seven of the first nine years there they were finalists. But it didn't last.
In seven of the next 19 years the Saints would collect the wooden spoon. It was only in their last two seasons playing home games at Moorabbin that they returned to the September stage. This was a venue at which tears of joy and frustration mingled. Briefly there was champagne, but mainly it was beer. Lots of it.
Having said that, the legendary raucous stuff passed me by. Through Moorabbin's last 13 years as a VFL/AFL venue I broadcast games there, but – largely due to these being lean times for the Saints – I wasn't a regular. Which makes almost freakish the number of highly memorable events I happened to witness there.
The first of these was between the 1979 and '80 seasons when former player and, by then, wealthy trucking magnate, Lindsay Fox, was announced as the club's new president. I recall arriving, as a nervous new boy on the block, in the almost deserted carpark just as the new president pulled in. I approached him, introducing myself as "Tim Lane from ABC TV, Mr Fox", and was warmly told it was: "Lindsay. Mr Fox died years ago."
Lindsay Fox.Credit:Eddie Jim
Under Fox's presidency the Saints now announced a five-year plan. The previous year, they'd won the wooden spoon. That was their second season under the coaching of former Richmond premiership player, Mike Patterson.
Some good news between seasons was the unexpected acquisition of Carlton champion and reigning premiership coach, Alex Jesaulenko. Jezza had walked out on the Blues after aligning himself with ousted president, George Harris. He was in his twilight years as a player but was an inspiring presence.
Thus, it was that my next visit to Moorabbin was for another non-matchday event. That the Saints had lost their first two games in 1980 was no great surprise and even when media organisations were alerted to an early-week announcement at the club, no one dared imagine what might be up. Inside, the gathering was small and as we waited for club representatives to arrive, one colleague brought a collective laugh by jokingly enquiring: "Anyone seen Jezza?"
Five or so minutes later, my new mate Lindsay announced the sacking of Patterson and the
appointment of Jesaulenko. Asked when he'd decided on the change, Fox said it was when two St Kilda players collided on the wing during Saturday's loss to Hawthorn.
My next Moorabbin moment came less than two weeks later. Jezza's appointment had sparked something and on week one of his tenure, the Saints played a draw with eventual premier, Richmond, at the MCG. The following week they hosted Essendon and there was electricity in the air.
It was nothing, however, compared to what erupted in the second quarter when Phil Carman head-butted boundary umpire Graham Carberry. This was an utterly extraordinary moment and it cost the brilliant, but volatile, Carman the rest of that football year.
Late the following season, an event occurred that was unique in the game's history: the umpires went on strike. Matches in round 19 were officiated by young men-in-white from junior leagues. And guess where the round's only one-kick result played out?
You got it … Saints v Tigers at Moorabbin!
I was broadcasting that day with former umpire, the late Ian Cleland, and as we made our way from
the president's lunch towards our commentary position, "Clelo" paid an impromptu visit to the umpires' room. I recall feeling the proverbial hair stand up on the back of the neck as an old umpy popped in to wish a couple of kids well. Their names were Glenn McKeeman and Bob Blythe.
The wind howled towards the southern end that day to such an extent that by three-quarter-time 13 goals had been kicked with it and not one against it. Coming home with it, the Saints hit the front early in the last term and it seemed Richmond were toast. But the Tigers dug in. They kicked a couple of goals "up the hill" to stay alive, then, in the dying moments, mounted one last attack.
Showing rare character under extraordinary circumstances, McKeeman paid a free kick to Richmond's Paul Sarah who slotted it through, and the Tigers won by a goal.
Finally, among my Moorabbin moments, is a game Saints' fans old enough to remember won't ever
forget: round two, 1989. Carlton were perennial finalists and the Saints a chopping block. No home-
ground advantage could disturb the natural order.
Which was to reckon without Tony Lockett. With the full-back of the century, Stephen Silvagni, his
opponent, "Plugger" kicked 10.7 of his team's 13.18. The Saints won a classic by four points.
These events were magnified by the theatre at which they unfolded. And I only witnessed a small
part of it. Little wonder the fans remain attached to the place.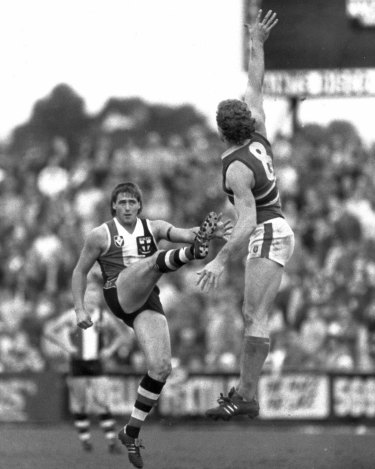 Tony Lockett kicks his 100th goal for season at Moorabbin in 1987.
Source: Read Full Article