When we want to better understand football, we fall back on hard-earned reputations. We ascribe certain auras to teams, players, managers and even bits of brick and mortar. Those within the game do the same when it comes to their opponents. We all, in a way, write our own mythologies.
For example, take Atletico Madrid. The last bastion of defensive football in a world mad on possess-and-press. A team whose results column could be a computer glitch for all the ones and zeroes. A team who have taken 26 first-leg leads over the eight years of Diego Simeone's time in charge and only ever surrendered one. There was no way they weren't going through to the Champions League quarter-finals tonight.
But then, take Anfield. The European fortress. The stage where, last year, the greatest player of all time addressed his troops before battle like Iain Duncan-Smith reminding you of the importance of promptly submitting a tax return. Tonight, it would be an arena of 45,000-odd mouths raining droplets down on each other, a turbulent spiral of contagion, unrelenting in its pursuit of a fevered atmosphere. There was no way Liverpool weren't going through to the Champions League quarter-finals tonight.
Download the new Independent Premium app
Sharing the full story, not just the headlines
It is on nights like this that such mythologies stand and fall. Something, ultimately, would have to give. And for 43 minutes, Atletico were immune to Anfield's aura. Liverpool were playing better than they did at the Wanda Metropolitano three weeks ago. Having failed to register a single shot on target in Madrid, their first of the tie came after just five minutes. Still, they could not find a goal. Jan Oblak was a spectator for much of the first leg. Here, he burnished his own reputation as the purest shot-stopper on the planet.
Yet Jurgen Klopp's side were gathering such a pace, you wondered whether even Atletico could sit back and soak up. A few minutes before Georginio Wijnaldum's breakthrough, Thomas Partey burst 25 yards ahead of the rest of his team-mates and encouraged them to join him in pressing Virgil van Dijk. "Nah, you're alright," was the collective response. Simeone has his way of protecting a single-goal lead. It works, usually. But they are not usually playing at Anfield.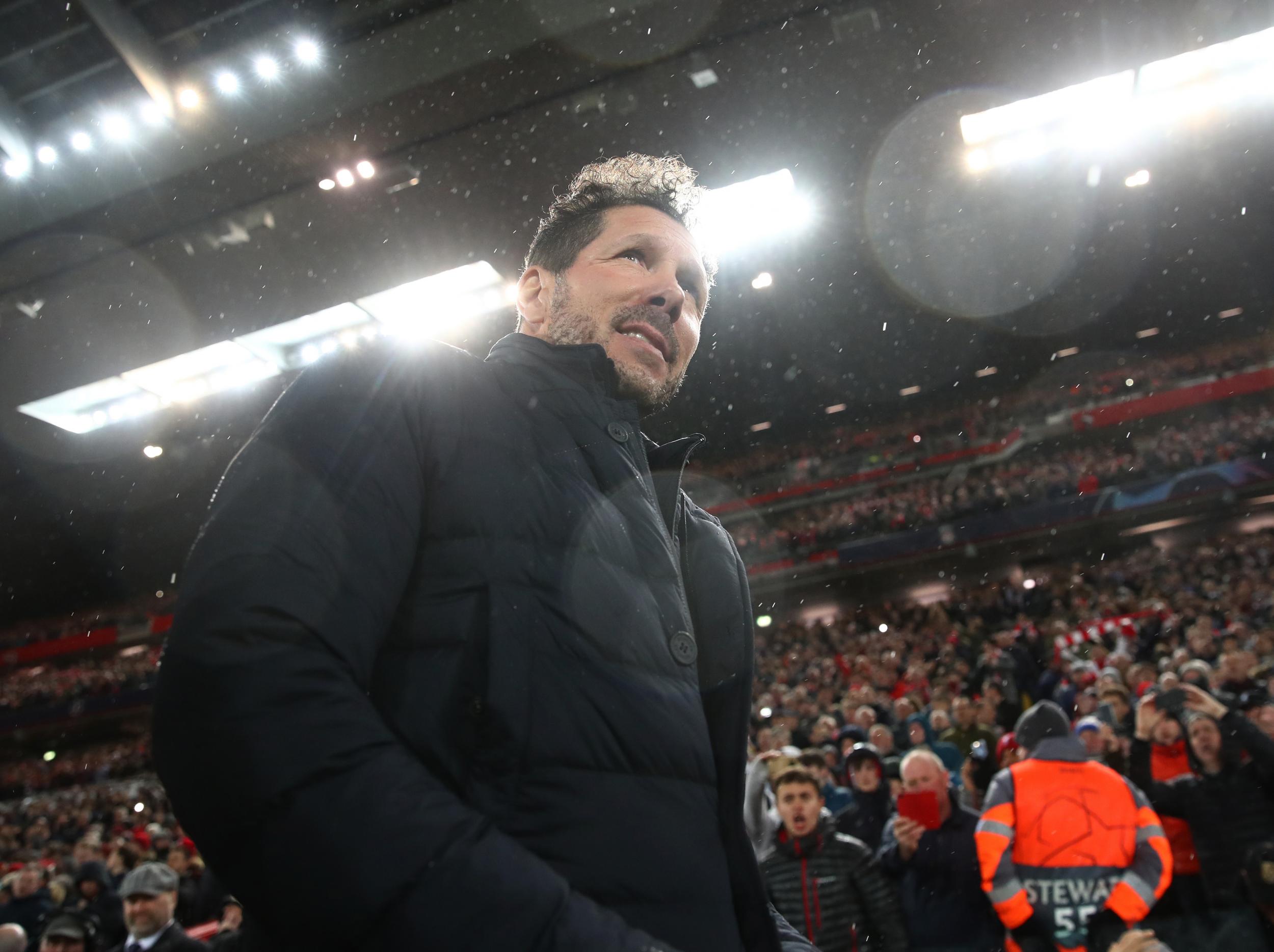 "It's a game to be patient and then impatient," said one Liverpool supporter passing the press box at half time. If that was true before Wijnaldum levelled the tie, it was just as true afterwards. But knowing when to stop and when to go is difficult, particularly when you are at Anfield with the defence of a European Cup on the line. The home of the Premier League champions-elect, the then-reigning champions of Europe, the reigning champions of the world. The team that only the onset of a once-in-a-century global pandemic can stop from fulfilling their destiny.
Oblak's goal was peppered with eight shots between the start of the second half and the 70th minute. Then it all went quiet for a quarter-of-an-hour or so, and not through want of trying. Liverpool lulled. That was Atletico's time to strike and end the tie in 90 minutes. It passed. Maybe it's true. Maybe there is little more to this team than an ability to sit deep and defend. Maybe they become startled when asked to actually chase a game. That was certainly the sense around Anfield when Liverpool regained momentum.
More still when, at the start of extra time, Roberto Firmino put them ahead in the tie.
And then, a team which is supposedly only good to defend scored three goals in the remainder of extra time. Liverpool's lead lasted only three minutes, surrendered by the slack pass of goalkeeper who – even when he has played well this season – is most certainly not Alisson Becker. There has always been a nagging, gnawing sense that Adrian is still a backup acquired on a free transfer, arriving late last summer after plenty of others had passed on the opportunity to sign him, released by West Ham, no less. He has never truly escaped that reputation and could not here.
Atletico, meanwhile, uncharacteristically let off the shackles. If they were gifted that first on the night, they made the clincher for themselves, refusing to rest on their away-goal lead and instead establishing a true advantage. It said everything that they were still breaking in behind in the game's dying embers, with Alvaro Morata adding to Marcos Llorente's brace. They conquered Anfield in the space of 22 extra-time minutes, turning their gameplan on its head, defying their reputation as a team that can defend a lead but not extend one.
That's the thing with these hard-earned reputations, these myths we write. It depends on how much you believe in them.
Source: Read Full Article