Welcome along to all the latest coverage ahead of Euro 2020 which gets going tomorrow in Rome. That's come around quickly. Italy vs Turkey is the first game taking place at 8pm BST on Friday night, preceded by an opening ceremony of some kind – presumably scaled back given the pandemic. UK viewers can watch it all unfold on the BBC and online via the iPlayer.
There is a relaxed feel around the England camp, underpinned by Jack Grealish's jovial press conference yesterday where he joked about Aston Villa's lack of set-piece quality to take advantage of him being so regularly fouled, laughed off comparisons with Paul Gascoigne and – more bizarrely from one Italian journalist – Francesco Totti. Later Declan Rice discussed carrying "no fear" into the tournament and why he chose England over Ireland.
We will have all the latest news and updates right here ahead of the tournament finally getting under way this week, with press conferences from the Scotland, Wales and England camps all to come today.
Read more:
Jack Grealish on why his driving test was more nervous than the Euros
Declan Rice on why he chose England over Ireland
Euro 2020 news: Declan Rice hoping to celebrate Euros glory with first ever pint of beer
Declan Rice hopes to be toasting Euros glory with his first ever pint of beer having overcome the knee injury that threatened to rule him out for England this summer.
Gareth Southgate faces a number of tough decisions ahead of Sunday's Group D opener against Croatia but the 22-year-old is among those assured of a starting role.
Rice has become a key part of the England side since switching allegiance from the Republic of Ireland, with whom he won the last of three senior caps in June 2018.
Declan Rice hoping to celebrate Euro 2020 glory with first ever pint of beer
The 22-year-old is set to start for England against Croatia.
Euro 2020 news: Christian Eriksen ready for 'very special' tournament
Denmark play all three of their Group B games in Copenhagen, and Christian Eriksen is hoping the support will boost the squad.
So what can the Danes do this time around with all three of their Group B games in Copenhagen?
"We'll try to bring our momentum from the last few years into the tournament," said midfielder Christian Eriksen.
"To play a tournament in Denmark, it's going to be very, very special. We can't wait. It's been postponed for a while so we've been looking forward to it for a good, long time now.
"Player for player it is the best [squad] I've been in ever since I came into the national team."
Euro 2020 news: Belgium are favourites to win tournament according to simulations – with England out in Round of 16
Hailing from the city of Munster in Germany, the data experts behind KickForm.com have rolled out their predictions for the upcoming Euro 2020.
According to data-driven simulations run on the platform, Belgium is one of the top favourites to win the Euro 2020, with a calculated probability of 22%.
Headed by mastermind Prof. Heuer, KickForm's professional team of statisticians have provide highly accurate forecasts for match outcomes of Euro 2020. Throughout the regular football season, KickForm is known to deliver forecasts backed by the most recent data and statistics for the major European leagues, with an accuracy of well over 70%.
For the Euro 2020, however,KickForm's sophisticated statistical tools had to be adapted accordingly for each national team. In a complex simulation, the outcomes were calculated 100,000 times and were recently published on their website. The probabilities of win, draw and loss were forecast for all 51 games – from the group stage to the final rounds.
For England, failing to reach the round of 16 would be a huge surprise, with the team currently holding a 95% probability of getting through to the group stages. The probability of reaching the quarter-finals drops heavily to around 50%, though, with a tough tie against Portugal predicted. Meanwhile, the probability of England reaching the semi-finals stands at 26%, with a 13% chance of going all the way to the final itself. As things stand, Belgium (22%), France (20%), Spain (13%), Portugal (12%) are all more likely to win the Euro 2020 compared to England's 6%.
The forecast for each team at the Euro 2020 can be found on the Kickform Prognosis page.
Source: PA
Euro 2020 news: Croatia will not take knee against England
Croatia's players and staff will not join their England counterparts in taking a knee before their Euro 2020 opener.
Gareth Southgate stated his side will continue to kneel before matches throughout the summer tournament. The gesture simply outlines England's stance against racism in football and wider society, but it was met with boos from a minority of fans during the friendlies with Austria and Romania last week.
Southgate and his players will take a knee directly before kick-off on Sunday, but they will not be joined by the Croatia contingent. Croatia's decision is not a surprising one given they have never taken the knee and remained standing as Belgium's players kneeled before their friendly on Sunday.
However, their Under-21 team observed the gesture when they faced England in the U21 Euros earlier this year.
Euro 2020 news: Spain add to their 'bubble' squad
Spain have called up an additional 11 players to their "parallel bubble" amid concerns that more first-team squad members could test positive for COVID-19.
They join the likes of Kepa, Brais Mendez, Carlos Soler, Pablo Fornals and Rodrigo Moreno, who arrived earlier this week.
Euro 2020 news: Portugal thrash Israel in final warm-up game
Bruno Fernandes scored twice and created a goal for Cristiano Ronaldo as Portugal completed preparations for their European Championship defence with a 4-0 win against Israel.
Two minutes after finding the bottom corner for Portugal's opener, Fernandes threaded a pass to Ronaldo to double the advantage before half-time. Joao Cancelo added a late third before Fernandes competed the victory.
Portugal start their Euro 2020 campaign against Hungary on Tuesday.
Euro 2020 the stage for a new generation of multinational footballers
It was a question that made many within the Spain squad uncomfortable, but that others around the group actually felt was understandable. On Sunday, one journalist just went straight out and asked Aymeric Laporte whether the defender feels "Spanish enough to defend the badge, the flag, the anthem", after his recent switch from France.
The discussion would usually seem unfair, and perhaps even loaded with a lot of awkward nationalistic themes. The reality is that it articulates a provocative theme at the very core of Euro 2020, that may ensure this tournament becomes a landmark in terms of the interpretation of international football. Laporte is one of 17 players at these championships to have officially switched nationality.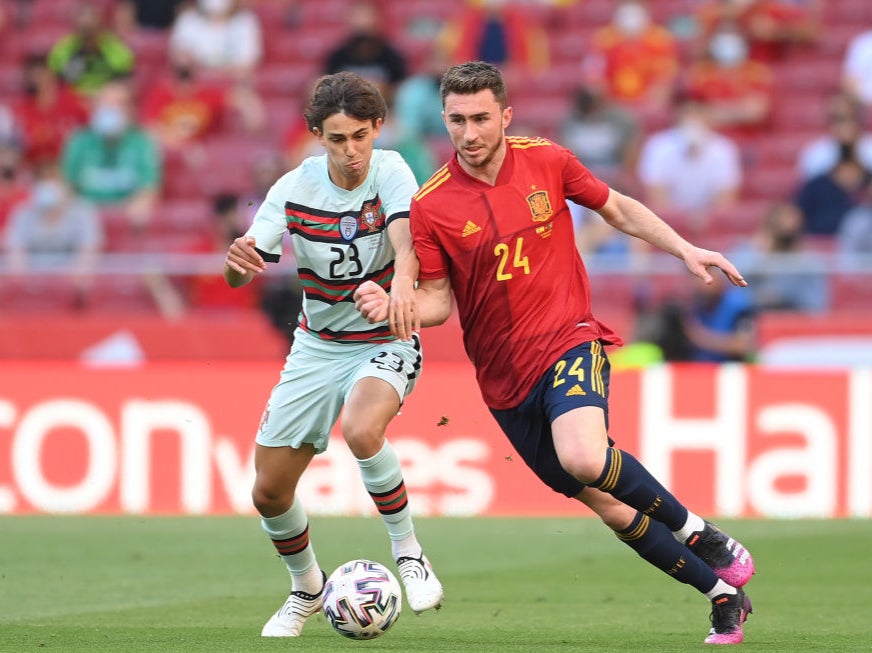 Euro 2020 the stage for a new generation of multinational footballers
Fluid regulations allow players to switch allegiances, reflecting a necessary understanding of their ancestry which challenges nationalist themes associated with the international game, writes Miguel Delaney
Euro 2020 news: Tournament is 'what I've wanted my whole life' – Grealish
Jack Grealish says "this is what I've wanted my whole life" as he prepares for his first major tournament with England at Euro 2020.
The Aston Villa midfielder played his way into contention this season and has won seven caps since making his England debut in September.
"My number one thing was to try to break my way into this squad," the 25-year-old said.
"I had my debut at the start of season so to be here is a dream come true. I will cherish every moment."
Euro 2020 news: Luke Shaw at left centre-back on Sunday?
England manager Gareth Southgate is considering playing Luke Shaw at centre-back against Croatia this weekend in a move that could see England start their European Championships campaign with four full-backs in the team.
The move could see the Three Lions start Reece James and Luke Shaw either side of John Stones in a back three while Atletico Madrid's Kieran Trippier and Chelsea's Ben Chilwell act as wing backs.
Southgate's use of Shaw was the most intriguing development in training on Wednesday as the Manchester United left back has not played at centre back for his country. It is also rather indicative of England's limited options.
Harry Maguire sat out training again on Wednesday as he attempts to recover from ankle ligament damage, leaving John Stones, Tyrone Mings, Conor Coady and Ben White as the only established centre half options.
Euro 2020 news: Allen over fitness issues and 'ready to go'
Wales face Switzerland in Baku on Saturday in their opening game of Euro 2020, a tournament Allen feared he would miss when he ruptured an Achilles tendon last year.
The 31-year-old was given a reprieve when the tournament was postponed for 12 months because of the coronavirus pandemic.
He returned for Wales in March only to suffer a hamstring injury seven minutes into his first game back against Belgium, but Allen has regained his fitness once more and, having featured in friendly matches against France and Albania this month, he is ready to take on Switzerland.
"I was always confident I would have enough time to get things right," he said. "It's not ideal preparation but thankfully I have had great help both here with the Welsh staff and at Stoke City. I am in a good placed physically and ready to go."
Source: Read Full Article