Carlo Ancelotti had hit upon the perfect words. After witnessing his Everton side lulled in by Manchester City's pass-pass-pass carousel before being blitzed by breathtaking second-half strikes, he was asked if the title is now a procession for Pep Guardiola's side.
"It is really difficult to say another name," was Ancelotti's response, offering that overcoming them is "almost impossible. At the moment, they are the best team, they have quality, power, belief."
That assessment meets the numbers test, is co-signed by the eyes and sits with reality of the league situation.
City's 3-1 victory at Goodison was their 17th consecutive win in all competitions and their 12th in the division.
READ MORE: Are this season's Liverpool last season's Manchester City?
During a perplexing season in which concrete declarations have been made to look silly, Guardiola's men are standing on the outside peeking in at everyone else struggling to cope with the conditions of pandemic football. 
Maximum points for them has become a certainty in recent weeks and while the turn of the year can traditionally trip up title hopefuls, it has only tightened City's hold at the top. 
Independent Football Newsletter
Get the latest football headlines direct to your inbox twice a week
Read our full mailing list consent terms here
They have become the first team in top-flight history to triumph in their opening 10 matches of a calendar year. That is an achievement in itself, without then adding the fact that they were victors at Chelsea, Liverpool and Everton and played Tottenham at home. 
The spell has seen City smash in 28 goals, conceding only three and this has been achieved largely without Kevin De Bruyne and Sergio Aguero. 
At Goodison, they were without Player of the Season candidate Ilkay Gundogan, but Bernardo Silva recaptured his best form while Riyad Mahrez added pizazz to the performance.
The pair combined for City's second after Richarlison had cancelled out Phil Foden's opener.
"We made the difference in the second half," Mahrez said. 
"We tried to pass and move a lot, to find the right space to score a goal. Silva and I don't need to scream or speak to each other, we know where each other will be and we train so good, so we don't need to speak. 
"When you keep winning the confidence grows, we are in a very good moment but have to keep going."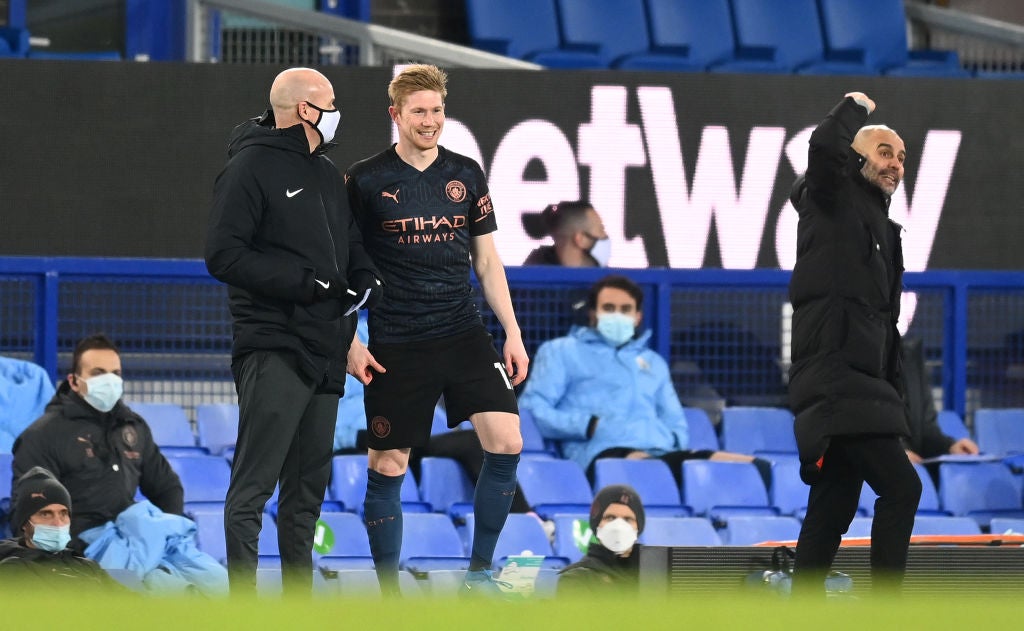 Kevin De Bruyne of Manchester City prepares to come on as a substitute
On Silva, whose low rocket put the game beyond Everton, Guardiola said: "What a player! That's all I can say. Everything he does, he does incredibly well.
"The year we won the second Premier League in a row he was unstoppable, he was an important player for us and he is back.
"Gundo is an exceptional player, but if you want to win titles or being there until the end we need all the squad. 
"Everyone is an incredible part of this. We have a terrible schedule, we have Wolves and Southampton when we expected long weeks. 
"We don't have a long week all season and everyone is going to be involved. We need everyone."
And so far, everyone is performing to elite levels for City, making them – to pinch Ancelotti's analysis – "almost impossible" to stop. All the best to Mikel Arteta and Arsenal who will try next.
Source: Read Full Article