As expected, there was plenty of drama in the Wimbledon final between Novak Djokovic and Nick Kyrgios. Here are five key moments.
KYRGIOS HOLDS SERVE AND WINS FIRST SET 6-4
If Kyrgios was to cap his stunning run at SW19, he needed to win the first set – if, for no other reason, than to steady what can be a fragile mindset. And it was here his No.1 weapon, his booming serve, saved the day. In the 10th game of the first set, Djokovic fought back and forced the Kyrgios serve to deuce on a wide Kyrgios backhand. But his serve saved him, nailing a pair of aces down the T (the first after what commentators described as a "snarl" at his box) to close out the set.
DJOKOVIC BREAKS KYRGIOS, UP 3-1 IN SECOND SET
Djokovic had not broken Kyrgios in their two previous meetings but, this time, he had forensically studied his opponent's serve, and pounced when the opportunity arose. Kyrgios may have had the best serve in the men's game, according to fellow Australian Wally Masur, but he was unable to win even one point when broken in the fourth game of the second set. Djokovic capped off a run of six straight winning points, going back to the third game, with a favourable bounce off a net cord. It was a major psychological blow, giving the Serbian the confidence he needed.
Djokovic in action during the final.Credit:AP
DJOKOVIC HOLDS SERVE AND WINS SECOND SET 6-3
Djokovic began with a double fault, Kyrgios soon finding himself leading 0-40 on a wide Djokovic forehand. However, he wasted four break points to hand the Serbian the set. The penultimate point, a long, under-cut forehand, prompted him to turn and blow off steam towards his support box. The set ended with a backhand into the net. Had Kyrgios broken, the set was back on serve, giving the Australian the chance to take a 2-0 lead.
KYRGIOS HOLDS SERVE 3-2 IN THIRD SET BUT HIS EMOTIONS BEGIN TO SPILL OVER
Kyrgios regrouped in the third set and had the opportunity to take control. However, his frustration with his box was obvious, and it finally spilled over when he questioned their, in his mind, lack of support.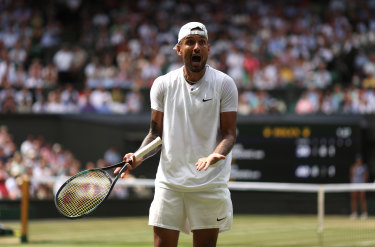 Kyrgios' frustration began to show in the third set, and he took aim at his support box.Credit:Getty Images
"Why do you stop [cheering]?" a seething Kyrgios asked.
"Why? Why do you? Say something!"
Kyrgios' team, however, had been nothing but supportive with their constant clapping and reassuring words. Djokovic continued to press and took the Kyrgios serve to deuce, prompting the latter to take aim at the chair umpire. While Kyrgios held serve, his focus soon turned to a woman in the crowd. "She's drunk out of her mind sitting in the first row. She looks like she's had 700 drinks, bro," Kyrgios complained.
"There is no bigger occasion than a Wimbledon final … you should kick her out."
Kyrgios can play his best tennis when he uses perceived slights to his advantage, but time was different. He continued to vent his anger, and was broken in the ninth game, squandering a 40-0 advantage, capped by a double fault and backhand into the net.
https://sportstoft.com/mlb/2022-mlb-all-star-rosters-biggest-snubs-surprises-and-takeaways/
"40-0, and you all just relax, every time, every time. 40-15, 40-0, why do you stop, why?" Kyrgios yelled at his box at the change of ends. "Why do you? Say something. Why?"
A composed Djokovic held serve to take a stranglehold on the contest.
DJOKOVIC WINS FOURTH SET TIE-BREAKER 7-3, CLAIMING A FOURTH-STRAIGHT WIMBLEDON CHAMPIONSHIP
It was now or never for Kyrgios come the fourth-set tie-breaker. Djokovic bounced to a 2-0 lead (the Kyrgios camp urging their man to concentrate on his opponent, not arguing over a line call) with the mini-break and was 5-1 up after a mishit forehand. "The Kyrgios dream is coming to an end here," the BBC commentators said. Djokovic led 6-1 and, while Kyrgios won the next two points on his serve, another backhand error gave Djokovic his fourth-straight Wimbledon title – and 21st grand slam victory. No wonder, on his haunches he pretended to eat a piece of the hallowed grass, before making his way up to his support group.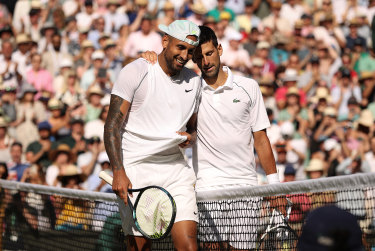 Novak Djokovic and Nick Kyrgios have had a frosty relationship but the pair now appear to be on the best of terms after their Wimbledon final.Credit:Getty Images
News, results and expert analysis from the weekend of sport sent every Monday. Sign up for our Sport newsletter.
Most Viewed in Sport
From our partners
Source: Read Full Article